A MAIDEN IS A ROSE THAT HAS BEEN NEWLY GRAFTED.
Unlike most grafted roses which are sold as #1 bushes, maidens are field grafted in summer, dug and shipped the same fall, a full year before most of the large growers harvest and ship their #1 grade roses.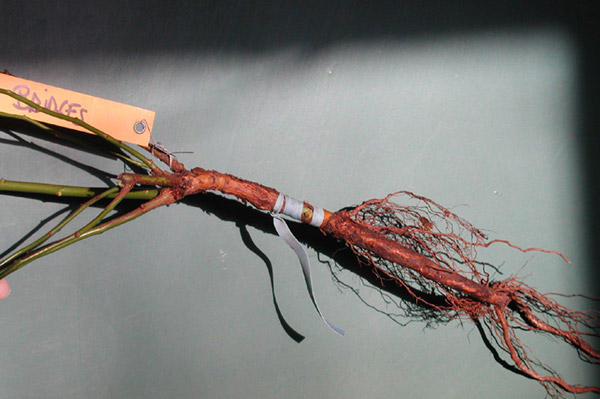 A bare-root maiden plant
The advantages to growing maidens are as follows:
Often times, #1 grade bushes are damaged in the digging process. Canes are bruised, split, and roots are often torn, ripped and cut short. Maiden plants grow their canes in your garden with no damage, and the root system gets established in your own beds.
New varieties can be propagated faster, so you get to enjoy new varieties a season or more before other companies can supply a #1 bush.
You get to understand and enjoy the process of growth from the very start, gaining a more comprehensive knowledge of rose growing.
You receive a dormant bare-root plant of rose rootstock, with the bud of the variety you have selected grafted and healed on the trunk (or shank) of the rootstock.
See my Growing Instructions for more.